Insurance wrangle for Ballater flood residents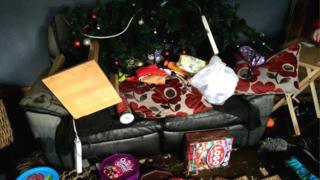 Homeowners in the Deeside town of Ballater have reported problems with insurance claims after December's devastating floods.
In at least one case, the insurance policy has been voided, while other people have described delays of almost two months.
At issue is how far some properties were from the River Dee.
Insurers Integra said it would not discuss customer details with the media.
Rosie Copland, 78, moved to her bungalow two years ago, after her husband had a stroke.
She was anxious about her husband's health, and wanted to get him settled quickly.
Mrs Copland said that she is unable to remember now whether she or her husband took out the home insurance policy.
Describing when she tried to claim on the policy after December's floods, she told BBC Scotland: "On the policy it had said 'are you within 400m of the river?'
"Whoever filled out the insurance had said 'no'.
"They then turned around and said 'we're only 145m from the river'.
She accepts that Integra is correct on that fact but believes it is irrelevant to December's flooding.
"We don't think the water came directly from the river, it seemed to come through the village."
David Murray is a firefighter who helped the evacuation during the floods.
He said he his wife Karen were advised to take pictures of their damaged goods, and then leave them outside to be taken away.
But last week, they said they were told that their policy with Integra had been voided - because they too had misjudged the distance from the Dee to their home.
Mrs Murray said the mistake was hers - but if they had been told this weeks ago, they would not have thrown out their damaged goods.
And like Rosie Copland, she said the flood water did not come from the part of the river nearest to her home - but from much further up in the town, and certainly more than 400m away.
"I haven't slept since the flood", she said.
"The insurance company don't seem to care they just seem to want to pass us on and say 'well it's your fault because you made a mistake'."
The local Church of Scotland minister, David Barr, told BBC Scotland that many families in the town had reported problems with their Integra insurance.
BBC Scotland asked Integra for comment, but the company said they would not discuss customer details with the media.