Bailey Gwynne death: Murder trial to be held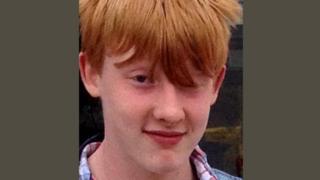 A teenager is to go on trial next week charged with murder after a 16-year-old boy was stabbed to death at an Aberdeen school.
Bailey Gwynne was fatally injured during an incident at Cults Academy on 28 October.
A 16-year-old boy, who cannot be named for legal reasons, admitted culpable homicide but denied murder.
The Crown said it would not accept that plea and it was ready to proceed to trial on the murder charge.
A trial at the High Court in Aberdeen is due to start on Tuesday 1 March and has been set down for five days.
The murder charge against the 16 year-old claims he did "engage in fighting" with Bailey and struck him on the body with a knife.
Knuckleduster charges
The accused is alleged to have had knives or "bladed instruments" as well as two knuckledusters at school "without reasonable excuse or lawful authority".
These two offences are said to have occurred on various occasions between 1 August 2013 and the day of the alleged murder.
He denies these accusations.
The hearing was told up to 16 child witnesses could give evidence.