Piper Alpha 1988 Cabinet documents reveal concern about unions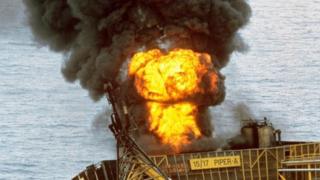 Conservative minister Cecil Parkinson raised concerns at the time of the Piper Alpha disaster over union attempts to "make capital" out of the tragedy, documents have revealed.
A total of 167 men died in the tragedy in the North Sea in 1988.
Cabinet documents have been released from the time of the disaster.
The papers state that union attempts to gain a "special position" out of the disaster, and to jeopardise North oil production, should be "firmly opposed".
The confidential documents, newly-released by The National Archives, record details of then Prime Minister Margaret Thatcher and her Cabinet discussing the ongoing situation on Piper Alpha the day after the disaster.
Condolences expressed
Secretary of State for Energy Cecil Parkinson said more than 60 survivors had been rescued but there was little hope of finding more.
Mrs Thatcher placed on record the Cabinet's condolences for those bereaved and injured.
The following week, the documents show Lord Parkinson's concern that trade unions were "endeavouring" to use the incident to establish a "special position" for themselves on safety issues in the North Sea, with the "objective of promoting union membership".
Lord Parkinson died aged 84 in January.