Offshore unions join forces amid industry downturn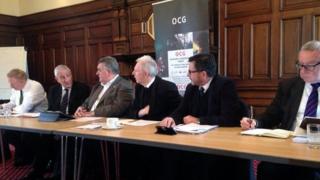 Unions have joined forces to try and protect workers in the offshore oil and gas industry.
The Offshore Co-ordinating Group (OCG) comprises Unite, the RMT, GMB, Balpa and Nautilus.
Speaking at the launch, STUC general secretary Grahame Smith said it was in response to the "scale of the challenges" being faced.
He said the OCG would co-ordinate campaigns and policies as there was a "future worth fighting for".
Mr Smith said: "It is essential that government, employers, regulators and agencies listen to the united voice of the offshore workforce."