Woman raped in Aberdeen's Union Terrace Gardens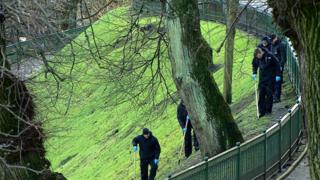 A 21-year-old woman has been raped in an Aberdeen city centre park.
A cordon was put in place at Union Terrace Gardens after the incident was reported at about 03:00 on Thursday morning.
The area remained sealed off to allow officers to resume their examination of the site in daylight on Friday.
Police Scotland described one potential witness they wanted to speak to as black, with a flat top hairstyle, wearing black slim leg jeans.
He also had on a blue denim shirt or jacket and a blue top with white writing on it.
Det Insp Jacqui Campbell said "We are looking to trace this gentleman as we believe he was walking past the area when the assault happened.
"We think he had walked along Union Terrace, then down the stairs at the side of His Majesty's Theatre and along Donald's Way onto Skene Street.
"He may have seen someone coming out of or walking away from Union Terrace Gardens or towards Woolmanhill Hospital."