Young's Seafood: Fraserburgh jobs fair and Grantown plant closure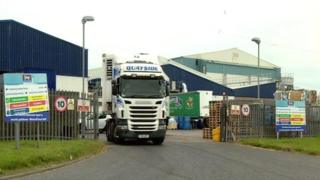 A major jobs fair is to be held in Fraserburgh in a bid to help hundreds of fish processors who lost their posts at Young's Seafood.
The owners announced in July that the plant was to close after the loss of a £100m contract to supply salmon to supermarket chain Sainsbury's.
It was later decided to keep it open on a smaller scale, saving 250 jobs.
The fish processor, however, is to pull out of Grantown on Spey where it operated a smokehouse.
Young's said it suspended work at the Highlands site while it sought a new contract that would allow it to resume operations and rehire staff.
About 24 people were employed at the Spey Valley Smokehouse.
'Declined offer'
Young's had sought to buy the site which it leases from Highlands and Islands Enterprise (HIE).
The bid to purchase the plant was declined and Young's said HIE's offer of a new lease was too short.
A spokesperson said: "During the past 30 days the landlord has made it clear that they will not now allow the company to purchase the site on these agreed terms.
"Most recently the landlord has also communicated an unwillingness to provide the company with a long-term commitment to the site.
"Having smoked fish at Spey Valley Smokehouse for many years, Young's Seafood Limited have made every possible effort to build a sustainable future for the site, however, the uncertainty over the purchase has now made it impossible to make the company's plans for the site a reality."
"We are presently writing to our former employees of the site to restate the company's commitment to offer redeployment opportunities to other Young's facilities and offer to pass on employment details to any new tenant of the Spey Valley site, should the former employee wish us to do so."
New contracts
HIE, however, said it had a responsibility to retain the building as a community asset and had offered Young's an extension to its lease.
A spokesperson for HIE said: "Now that Young's Seafood is no longer running any contracts from Grantown, it is in the best interests of the community that the smokehouse should remain in public ownership through HIE, at least in the short term.
"We offered Young's an extension on their present lease, which would have enabled the business to retain occupancy while seeking new contracts.
"We were also clear that we would be happy to consider selling again in future, once they had returned the premises to productive use."
The spokesperson added: "It is disappointing that Young's declined our offer. However, this is an attractive property to other companies in the sector and we have already received several expressions of interest."
Thursday's jobs fair in Fraserburgh was being held at the North East Scotland College.
The Fraserburgh plant has become a much-reduced operation focusing on hot and cold smoked ready-to-eat products.