Nicola Sturgeon tells David Cameron urgent Aberdeen deal needed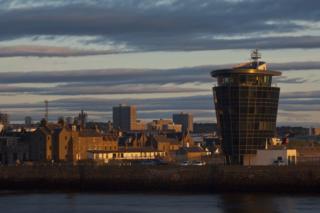 A multi-million pound city deal to support Aberdeen's position in the oil and gas industry should be agreed as a matter of urgency, First Minister Nicola Sturgeon has told Prime Minister David Cameron.
Aberdeen and Aberdeenshire councils delivered a "statement of intent" in September in a bid to secure £2.9bn.
Ms Sturgeon has now written to Mr Cameron.
She said urgent action was needed given job losses in the oil industry.
The letter stated: "As you know, our respective officials have been discussing city region deals.
"Given the current situation in Aberdeen, with significant private sector job losses announced in recent weeks by the oil and gas industry, it is vital that government sends a strong and unequivocal signal that it is fully supportive of the region's position as a global oil and gas hub.
"The city deal provides a good opportunity to signal our respective governments' support for the region. Against that backdrop, I am supportive of moving as soon as possible to agree the Aberdeen city deal."
She added: "I am prepared for the Scottish government to fund the deal on a 50:50 basis and to work with you, as a matter of urgency, to bring this to fruition."
'Working together'
Secretary of State for Scotland David Mundell said: "UK City Deals are a UK government initiative to target significant investment to boost local economic growth.
"We have seen already how effective they are in cities and communities right across the UK.
"The UK government has been leading discussions with the Scottish government and other partners on a UK City Deal for Aberdeen.
"We are committed to doing all we can to support the oil and gas sector and the wider north east economy.
"I am delighted that the Scottish government has committed to join us in contributing funding, adding to that already pledged by the UK government. We expect to be able to announce the full details of the Aberdeen City Deal shortly."
He added: "This is an excellent example of the UK and Scottish governments working together for the benefit of Scotland."
Businessman Sir Ian Wood is heading a new body aimed at securing the Aberdeen City Region Deal.