Two fishermen rescued from creel boat off Shetland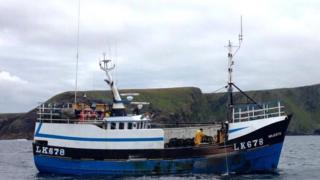 Two fishermen have been rescued after their creel boat started taking on water off Shetland.
The crew of the Lerwick-registered Majestic sent out a mayday shortly after 10:00 and took to their liferaft about four miles from Yell.
They were picked by a nearby fishing boat.
The Shetland Coastguard rescue helicopter was on exercise in the area and monitored the situation. The fishing boat later sank.
UK Coastguard controller Bev Allen said: "The crew are thankfully safe and well."