Landowner told to remove Cove harbour boulders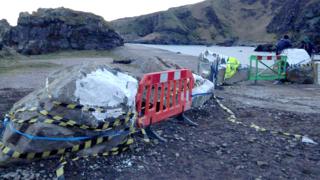 A landowner who placed boulders across the entrance to a small Aberdeen harbour has been told to remove the barriers.
The fishermen at Cove have been involved in a legal wrangle with Pralhad Kolhe over access since last year.
Large boulders were recently placed across the entrance to the pier, preventing access for vehicles.
Council officials have now written to Mr Kolhe.
Mr Kolhe's representatives have not yet responded to a BBC Scotland request for a comment.