Local artists invited to share work in new town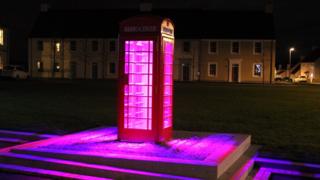 Local artists have been invited to share their work at the heart of Aberdeenshire's newest village.
The first piece to be displayed in Chapelton of Elsick is a restored red telephone box.
The box lights up at night using equipment provided by London-based designers, Lighting Design International.
The installation will eventually be removed and it is hoped the space will host a series of local art projects.
The first residents moved into the purpose-built development, 10 miles south of Aberdeen, earlier this year.
The approved outline plan allowed for 4,000 homes to be built in the first stage, rising to 8,000.
The director of Elsick Development Company, the Duke of Fife, said: "We are very excited to bring the telephone box to Chapelton as it's a wonderful design and the light-show is a bit of fun."
"The installation is the first of many local community arts initiatives in Chapelton and we hope that it will be appreciated by residents and visitors."
The telephone box sits on a plinth within Hume Square in Chapelton.