Fishing quotas increased after annual EU talks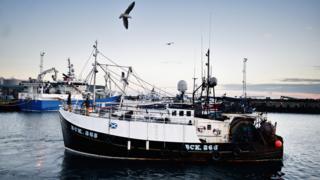 Scottish fishermen's leaders have welcomed significant increases in fishing quotas agreed after late night EU talks in Brussels.
Permitted catches will rise for haddock, North Sea cod and a number of other species.
Increases over and above this were also agreed for some species affected by the discard ban which starts on 1 January.
However, it was also recommended that fishing for west coast herring cease next year.
The agreements at the annual meeting of the EU Fisheries and Agriculture Council follow earlier announcements of quota increases after EU talks with Norway.
---
The species involved and the new quotas are:
Haddock: +30% (plus an extra 17% discard uplift)
North Sea cod: +15%
North Sea herring: +16%
Megrim: +26%
Monkfish: +20%
West Coast prawns: +16%
North Sea whiting: unchanged
Lemon sole: unchanged
North Sea prawns: -23%
West Coast herring: no catch
---
Fisheries minister George Eustice welcomed the deal as a "great result" for the UK fishing fleet.
He said: "These negotiations are the culmination of months of government-led work to secure the best possible deal for the UK fishing industry, and the tough decisions we've taken to manage fishing and recover fish stocks are paying off - this is a great December council result for UK fishermen.
"I entered these discussions with the firm belief that any decisions need to support a profitable fishing industry, sustainable fish stocks and a healthy marine environment, and the significant quota increases we've achieved for iconic species like North Sea cod demonstrates the success of this approach."
Bertie Armstrong, chief executive of the Scottish Fishermen's Federation, said the quota rises were "good news" and demonstrated the sustainable fishing practices of the Scottish fleet.
"Haddock is particularly important for the Scottish industry and this quota increase, along with those for North Sea cod and a number of other species, provides a welcome boost for our fishermen," he said.
"There are, however, challenges for the year ahead, most notably the phased introduction of the discard ban. There is still great uncertainty over how this regime will work in practice and it is essential that there is a real degree of flexibility in its management."
Scottish fisheries secretary Richard Lochhead said the deal meant quota increases for 16 out of 23 key Scottish stocks and would provide a multi million pound boost to the whitefish fleet.
He said: "The annual negotiations have secured crucial increases in fish quota for the vast majority of key species including cod and haddock.
"This is worth around £25m to the whitefish sector and when combined with increasing prices and lower costs should lead to a good year for Scottish fishing.
"Crucially this will help manage the start of the discard ban - which stops fish being thrown back into the sea dead - for haddock next year.
"However, with a largely positive deal for the Scottish fleet it is disappointing that we had to endure a late and unexpected deal with Norway on Blue Whiting against scientific advice, with a lack of consultation and flawed process."