Donald Trump: Call for degree honour to be stripped by RGU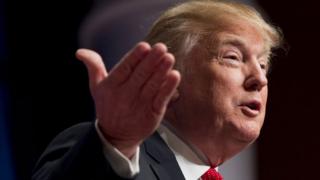 A petition calling for Donald Trump to be stripped of an honorary degree awarded by an Aberdeen university has been signed by thousands of people.
Republican US presidential candidate Mr Trump was presented with a Doctorate of Business Administration by Robert Gordon University (RGU) in October 2010.
The petition accuses the tycoon of "hate speech".
RGU said its position was being "considered".
Meanwhile, First Minister Nicola Sturgeon said that the American's comments were "obnoxious and offensive", and had "rightly been condemned by people across the political spectrum".
A decision to award Mr Trump his university accolade threw up opposition at the time.
The online petition states: "We respectfully request that Robert Gordon University strips Donald Trump of the honorary degree it bestowed on him with immediate effect.
"Why is this important? We feel that Donald Trump's unrepentant, persistent verbal attacks on various groups of people based on nationality, religion, race and physical abilities are a huge detriment to RGU.
"Hate speech must not have a place in academia, in politics or on the world stage. We are confident RGU will agree with the petitioners, and act swiftly."
'Respect cultures'
A spokesman for RGU said: "Mr Trump's honorary degree was awarded in 2010. Business and entrepreneurship are key areas of focus for the university, and Mr Trump is recognised for these activities (including his investment in the north east of Scotland).
"This award was made prior to the appointment of RGU's current Principal, Prof Ferdinand von Prondzynski, who is considering the position.
"He is totally committed to equality of opportunity and to respect for different cultures, values which are an important part of RGU's ethos."
Mr Trump this week said many Muslims nurse a "hatred" towards America.
'Great honour'
In a campaign statement, he called for "a total and complete shutdown of Muslims entering the United States until our country's representatives can figure out what is going on".
There has been condemnation from Mr Trump's fellow Republicans.
At the time of receiving his honorary degree, Mr Trump said it was "a great university and a great honour".
However, David Kennedy, principal of RGU between 1987-1997, had said he was "appalled" that Mr Trump was getting the award and handed back an honorary degree.
Mr Trump's golf resort at Menie in Aberdeenshire has divided opinion for many years.