Thousands of medical records lost in Aberdeen Royal Infirmary flooding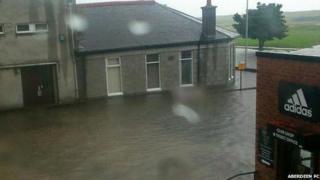 Thousands of medical records were lost during flooding at Aberdeen Royal Infirmary earlier this year, NHS Grampian has revealed.
Torrential rain caused severe flooding in parts of the city on 7 July.
A secure basement at Aberdeen Royal Infirmary containing a records library was affected.
NHS Grampian said 8,100 records could not be restored, and patients whose paper medical records were damaged had been contacted.
Between 2% and 3% of the records held in the area could not be restored following the incident.
'No adverse impact'
Chief executive Malcolm Wright said: "I understand this will cause some concern to those people affected and we apologise unreservedly.
"I would seek to reassure these patients however that this issue affects only the handwritten part of their notes relating to hospital stays - it will have no adverse impact on the care we are able to provide now or in the future.
"In the main, a person's hospital medical record is now held electronically."
A helpline is available for anyone who, after receiving the letter, has any further questions or concerns on 01224 558747. The helpline is open between 08:30 and 17:00, Monday to Friday.