Five hurt in A90 bus and lorry crash at Newburgh turnoff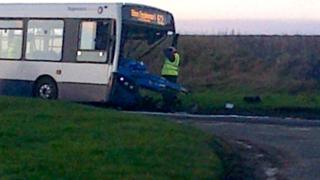 Five people were injured after a bus and lorry were involved in a crash which closed a main commuter route in Aberdeenshire.
The collision happened at the Newburgh turnoff of the A90 Aberdeen to Ellon road shortly before 08:00.
Ambulance, police and fire crews attended.
Five people - one of whom was trapped - escaped serious injuries. The road was initially closed in both directions.
Did you take pictures - still or moving - of the scene of this incident? Send them to the BBC Scotland news website at newsonlinescotland@bbc.co.uk
Please ensure when filming or photographing an incident that you make your safety and the safety of others a priority.
You must have taken and be the copyright owner of any pictures submitted. If you submit an image, you do so in accordance with the BBC's Terms and Conditions