Aberdeen student Yousif Badri cleared of terror charges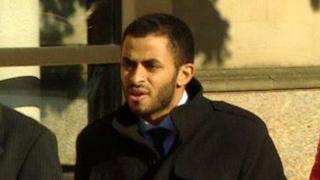 An Aberdeen student has spoken of his relief after being cleared of terrorism offences.
Yousif Badri, 29, was on trial at the High Court in Glasgow accused of being involved in conduct "with the intention of committing acts of terrorism".
The offences were alleged to have been committed between April 2006 and June 2013.
Mr Badri said: "I'm very happy and hope to continue my medical career. I've been in limbo for the last two years."
Judge Lord Turnbull told Mr Badri: "The verdict returned by the jury means that you are free to leave the dock.
"The court would like to wish you well in your continued medical career."
And Lord Turnbull told the jury that he "wholeheartedly agreed" with the not guilty verdicts they had returned.
Missing hammer
Mr Badri gave evidence during the long-running trial and accused so-called Islamic State of "hijacking" Muslim history.
He told the court: "It tries to appear as a religious organisation, but it's more like a Mafia organisation or criminal gang."
He said he had al-Qaeda material on his computer for research purposes only.
When asked if he was a terrorist or intended to become a terrorist, he replied: "No, of course not."
The court also heard Mr Badri retweeted two weeks before he was arrested that the murderers of soldier Lee Rigby were "fringe nutters".
It was suggested that because Mr Badri had a large tub of nails and no hammer, the nails could be an ingredient for a bomb.
'Not a radical'
But the court heard the nails had been brought to the flat by Mr Badri's father while he was carrying out DIY work and the hammer had been borrowed by a friend and not returned.
The prosecution told the jury it was the "right thing to do" to return guilty verdicts.
However, defence QC Murdo Macleod had said: "He is not a radical, he is not a terrorist, he has extremely tolerant views.
"He is a young man who wants to clear his name and get on with his career as a junior doctor."
The trial began on 8 September. The jury had been sent home on Thursday night before resuming deliberations on Friday.
'Note outcome'
Assistant Chief Constable Ruaraidh Nicolson, of Police Scotland's Organised Crime, Counter Terrorism and Safer Communities branch, said: "We note the outcome of the proceedings today at the High Court in Glasgow and will consider any issues arising from the case.
"Police Scotland carried out an intensive investigation following intelligence about the activities of an individual of concern and the matter was fully reported to the Crown Office and Procurator Fiscal Service.
"Police Scotland works with a wide range of partners in the UK counter terrorism network in order to keep people safe and reduce the threat posed by extremist and terrorist activity.
"Local policing teams and specialist officers work closely to ensure that the community impact of such investigations is closely monitored and any issues which arise are responded to appropriately and sensitively."