Italian Chapel entrance fee in Orkney to be charged for first time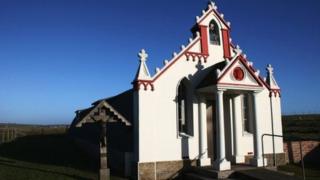 Entrance fees are to be charged for the first time at Orkney's famous Italian Chapel.
The ornate building was built during World War Two by Italian prisoners of war, and has since become one of the area's top attractions.
The Italian Chapel has always been free for people to visit.
The charging move is in response to ever increasing numbers of visitors. The money raised will go towards paying for custodians and maintenance work.
The charges will be introduced next year.