Date set for challenge over Sumburgh crash black box ruling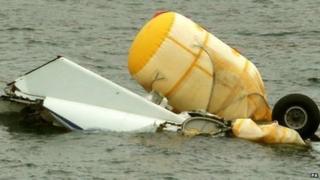 Prosecutors will have to wait until December to hear whether they will get access to voice and data recorders from a North Sea helicopter crash.
A judge has ruled that Air Accident Investigators should hand over the black boxes from the crash off Shetland in 2013, in which four people died.
But a legal challenge has been launched by the British Airline Pilots' Association (Balpa).
The case will be heard on the first of December.
The pilots' union has said disclosure would jeopardise the culture of honest reporting which they said led to an improved safety culture.
Last month, a judge found it was in the public interest and the interests of justice to make the cockpit voice recorder - recovered by the Air Accidents Investigation Branch - available to prosecutors.
A total of 18 people were on board when the Super Puma crashed on its approach to Sumburgh.
Helicopter passengers Sarah Darnley from Elgin, Gary McCrossan, from Inverness, Duncan Munro, from Bishop Auckland, and George Allison, from Winchester, lost their lives.