Aberdeen city centre masterplan proposals published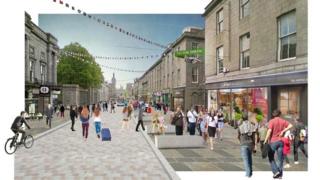 Proposals for the regeneration of Aberdeen city centre have been published.
Councillors will consider the masterplan framework, from consultants BDP, on Wednesday 24 June.
Included among dozens of proposed projects is the pedestrianisation of part of the city's main Union Street.
Scott Mackenzie, director of architecture at BDP, said the proposals were "imaginative, transformational and challenging."
He said: "Councillors have a once-in-a-generation opportunity to back a programme that will transform Aberdeen city centre.
"The people of Aberdeen have been very clear in detailing what they believe will work and is required to maintain its position as one of this country's key destinations.
"This project could help deliver an additional 5,500 jobs approximately and add nearly £280m to the city's gross annual income, whilst transforming the way in which Aberdeen is viewed by the outside world, building on its reputation as the UK's oil capital to become an internationally distinctive business destination anchored by a city centre worthy of a global city."