Aberdeen's Bon Accord Baths 'fallen into disrepair'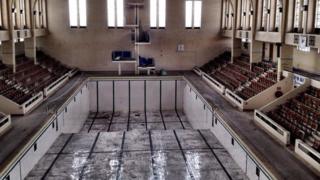 Campaigners trying to reopen Aberdeen's historic art deco design Bon Accord baths have criticised the building being left to fall into disrepair.
The swimming pool on Justice Mill Lane closed in 2008 because of council budget cuts.
The campaigners said a survey had revealed substantial roof damage.
They have now asked Aberdeen City Council to push back the date for planning submissions, to allow for extra survey work to be carried out.
In a statement, the council said it had limited resources, which were prioritised on operational assets.
It is estimated millions of pounds will be needed to refurbish the building.
The opening of the baths in 1940 was captured on film and can be seen on the National Library of Scotland's Screen Archive.