Female Viking Lesley Simpson makes Shetland history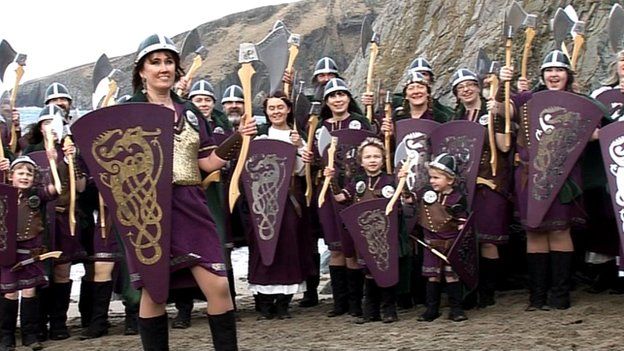 The first female Guizer Jarl - or chief Viking - in the 130-year history of Shetland's world famous fire festivals is preparing to don her armour.
The event is one of several Viking-themed torchlit processions held on Shetland every year.
Women have been playing a more prominent role in many of the similar fire festivals that have spread to smaller communities around the islands.
But Ms Simpson, from Bigton, will be the first woman to ever play the honoured role of the Guizer Jarl, around whom the whole festival revolves.
The primary school head teacher will lead the procession on Friday night while dressed as a Viking warrior complete with axe, shield and armour, before helping to burn a replica Viking galley.
Speaking ahead of the event, she told BBC Scotland: "It is really important to me. It has been a long build up, five years of knowing that this was going to happen, five years of people talking to me about it and wishing me the best with it and it is going to be a wonderful day.
"I'm really looking forward to visiting all the different places, the different schools and especially for our procession at night time."