Call to re-think cut to Aberdeen Bank of Scotland hours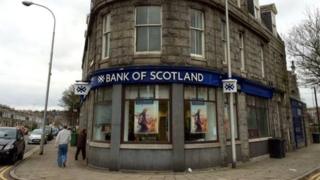 The Bank of Scotland has been urged to re-think a decision to cuts its opening hours in a busy area of Aberdeen.
The Beechgrove Terrace Mile End branch in Rosemount will only open on Tuesdays and Thursdays from Monday 4 May.
Local councillor Jennifer Stewart has written to the bank after constituents approached her with concerns about the cut in service.
The Bank of Scotland said it was due to a lack of demand from customers for counter services.
The councillor told BBC Scotland: "The bank has decided to reduce the hours significantly.
"Rosemount is a very busy business area and the Bank of Scotland is the only bank there.
"It's quite densely populated with older people."
'Apologise for inconvenience'
She said some customers would face a walk of about 20 minutes to another branch.
A Bank of Scotland spokeswoman said: "We regularly review the opening hours of our branches and have taken a decision to amend the opening hours of our Mile End branch due to a lack of demand from customers for counter services on Mondays, Wednesdays and Fridays.
"From 4 May transactions can be carried out on Tuesdays and Thursdays or by visiting our main branch, Queens Cross, which is open Monday to Saturday and is a short 10-minute walk away.
"In addition, the branch ATM, online and mobile banking will continue to operate a 24-hour service."
She added: "We apologise for any inconvenience this change of hours may cause."