Ballater Darroch Learg fire hotel 'to be rebuilt'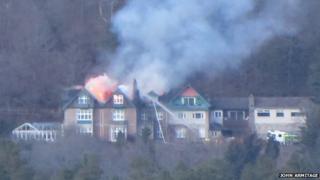 An Aberdeenshire hotel badly damaged by fire will be rebuilt and reopened, the owners have said.
The fire at the 130-year-old Darroch Learg Hotel in Ballater on Friday destroyed the top floor and roof.
The owners said in a statement they would try to open the hotel again as soon as possible.
Meanwhile, the Scottish Fire and Rescue Service praised the efforts of its crews who tackled the fire through the night.
Station manager Graeme Goonan said: "The crews deserve tremendous credit for the way they managed to overcome those difficulties and tackle the fire effectively."