Moray Council warns of teacher shortages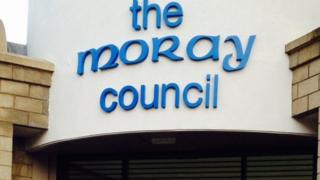 Moray councillors are to be warned this week that pupils may be sent home due to teacher shortages in primary and secondary schools.
The authority said there were currently about 70 teaching vacancies in Moray's 53 schools.
The council described recruitment as an "increasing problem" - with some vacant posts attracting "no suitable candidates at all".
Moray Council has spent nearly £35,000 this financial year advertising posts.
A report to the council's children and young people's services committee on Wednesday states: "Secondary head teachers are becoming increasingly concerned about vacancies, in particular in hard-to-fill subject areas such as maths, English, technical and physics.
"In primary, long-term temporary posts such as maternity leave vacancies and part-time posts such as job share are attracting so few applicants that even on the second or third re-advertising they remain unfilled."
The committee will be told that failure to address staffing shortages in both primary and secondary schools may result in children being sent home.
The EIS teaching union said last week staffing levels were now a "significant problem" in Moray, Aberdeenshire and Aberdeen.
---
Analysis
Jamie McIvor, BBC Scotland education correspondent
Moray Council's warning that children may be sent home because of teacher shortages touches on several important issues.
One is simply why the council is finding it so hard to fill teacher vacancies - something which can always be a challenge in rural areas. Solutions can include effective advertising, looking beyond Scotland and the rest of the UK, and incentives to attract people to the area.
But broader issues of national significance are also raised.
One concerns supply teachers - the teachers who do not have a full-time job, who are brought in to cover sickness and other short-term gaps.
The number of available supply teachers in Moray has also fallen, from 392 to 222 in the last two years.
Changes to the pay deal for supply teachers were designed to bolster their number after concerns were raised about shortages.
They now get paid at the full rate after two days' continuous work instead of five.
Teacher numbers
There have also been unintended consequence from a move which was otherwise welcomed by the unions - more newly-qualified teachers are finding permanent posts, so are not looking for supply work.
There also a vital issue with teacher numbers across Scotland.
Full-time equivalent teacher (FTE) numbers stand stood at 50,824 last year - 254 fewer than 2013.
But the number of pupils in Scotland's schools went up 3,425 on the previous year to 676,955.
This meant the ratio of teachers to pupils was lengthening.
Finance Secretary John Swinney is offering councils money to maintain teacher to pupil ratios.
However, there will be no formal sanctions for councils which fail to do this.