PC Allan Masson on trial for dangerous driving after man hit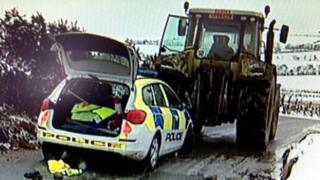 A police officer was driving "too fast" for icy road conditions when he knocked down a pedestrian leaving him seriously injured, a court has heard.
Allan Masson, 43, denies driving dangerously at excessive speed for the road conditions on 21 March 2013.
The incident happened on the unclassified Inverurie to Chapel of Garioch road in Aberdeenshire.
Aberdeen Sheriff Court heard that Joseph Leghorn's leg was broken and he lost a toe following the accident.
He also had broken bones in his ear and foot. The court heard he now has a titanium rod in his leg.
Witness Ian McDonald told the court that he shouted at all pedestrians to get off the road when he saw the police car coming down the icy hill.
He said: "I just knew that he was going too fast. I don't know why, he just appeared to be going really quickly."
'Black spot'
Mr Leghorn, 69, from Dunfermline, could not remember the accident.
The project manager spent a week at Aberdeen Royal Infirmary then attended appointments at a rehabilitation centre in Fife.
Recorded data showed that PC Masson had been travelling at about 33mph before the accident.
Video footage recorded by police showed that the road had been covered in compacted snow around the collision scene which was known to be an accident black spot.
Motorist Alan Will, 45, described the road as "very icy" and said the police officer did not appear to be in control of the police car when it passed him moments before the collision happened.
He said the car seemed too fast for the road conditions.
The court heard that PC Masson was an experienced driver who had passed several road training courses.
The trial continues.