Lerwick Brewery signs UK Ooberstock distribution deal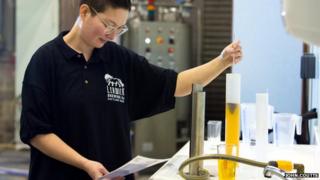 A Shetland brewery has signed a deal to give its beers UK-wide distribution for the first time.
Lerwick Brewery has teamed up with wholesaler Ooberstock.
Lerwick Brewery distribution manager Graham Mercer said: "Ooberstock is one of the industry's most well-connected suppliers. Securing UK-wide distribution is a major landmark."
Ooberstock owner Stephen Brogan said: "We are thrilled to have them on board."
He added: "Despite being one of the UK's most remote breweries - closer to Bergen in Norway than Edinburgh - Lerwick Brewery has lived up to its reputation of providing high and consistent-quality ales in large volumes.
"Their unique location and heritage, coupled with the great taste of their beers, makes them all the more interesting for our customers."
Lerwick Brewery was established in 2011.