Royal Mail backtracks on lost Christmas cards Orkney service plan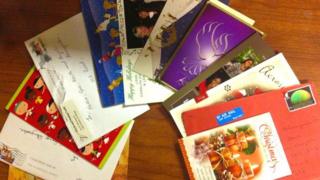 Royal Mail has backtracked on plans to withdraw from a popular festive lost Christmas cards service provided in Orkney for 25 years.
The annual appeal on BBC Radio Orkney helped local postal workers deliver hundreds of cards with incomplete or no addresses.
The cards were read out by a member of Royal Mail staff, with listeners suggesting the intended recipient.
Royal Mail said its staff were too busy but agreed after BBC Scotland coverage.
However a spokeswoman said taking part in the appeal was well outwith procedures for correct mail delivery.
She said: "The fact is that it if mail does come into our system without a correct address it cannot be guaranteed to be delivered.
"Everyone no matter where they live needs to put on a correct address before posting."
'Piece of nonsense'
The Christmas cards featured on the radio programme sometimes only have first names on them and no address.
However the Kirkwall-based appeal would find homes for about 90% of the cards featured.
The initial story on the BBC Radio Orkney Facebook page had seen a heated reaction from local people.
Orkney Lib Dem MSP Liam McArthur wrote: "What a ridiculous piece of nonsense. On the case."
However one person wrote: "Maybe if people just wrote the right address, there'd be no issue?"