Police divisions in north east and west of Scotland could merge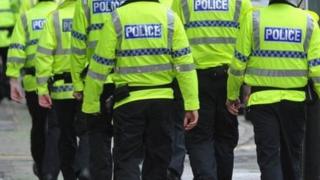 A senior Police Scotland officer has said the merger of divisions could "strengthen local policing".
The force has started a consultation on the future of the Aberdeen city, and Aberdeenshire and Moray divisions.
A similar process in the west of Scotland could see the merger of divisions covering Argyll and Bute, Inverclyde and Renfrewshire.
The force said it wanted better targeted and cost-effective local policing, and was looking for savings.
It said it was engaging with staff who could potentially be affected by the changes.
Assistant Chief Constable Wayne Mawson, who is responsible for the west of Scotland, said: "As a policing service we are continually evolving as we keep our structures under review.
"Local commanders have identified opportunities to further strengthen local policing, increase consistency in the provision of our service to communities and ensure we continue to look for financial savings where we can marry this with service improvements.
"The main drivers for us will always be the delivery of better targeted local policing; improved access to local policing; improvements to the quality of policing service; and, a policing service which is more sustainable and cost-effective."
ACC Mawson added: "We are committed to working alongside officers and staff to explain what any proposal could mean for them and potential timescales going forward."
'Damaging'
Local politicians have voiced concern about the impact of further centralisation on the areas served.
North East Labour MSP Lewis Macdonald said the move would be damaging.
He told BBC Scotland it was "very difficult" to understand how the proposal could strengthen community policing.
"I think many people in the north east will be astonished at the proposal," he said.