Stone cold roses: Frost flowers at Haddo near Tarves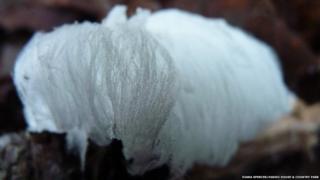 Frost flowers have been photographed at Haddo House and Country Park near Tarves in Aberdeenshire.
Diana Spencer, who works at the historic house and park, captured the images on Wednesday morning.
She said: "The frost flowers happen when a wet bit of wood freezes.
"The water gets squeezed out through the pores in the wood and makes these hair-like strands."
She added: "It's pretty damp in the leaf litter in the woods here, and then two very dry days with hard frost seems to have been the ideal conditions.
"I've seen them at Haddo last year but don't think I've ever seen them anywhere else before."