Police officer praised for Churchill Barriers rescue in Orkney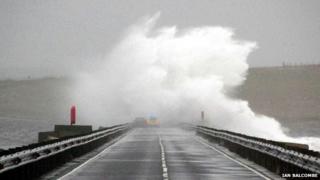 A police officer in Orkney has been praised for her bravery after going to the aid of a motorist whose car had been hit by a huge wave.
The vehicle was struck and pushed against the Churchill Barriers on Saturday afternoon.
The officer pulled alongside and managed to get the female passenger out through an open window.
The police car also became swamped by water. A local coastguard team in a 4x4 towed the vehicles to safety.
Police Scotland underlined a warning to motorists to be careful when crossing the barriers in poor weather conditions.