Firefighters tackle laboratory blaze at University of Aberdeen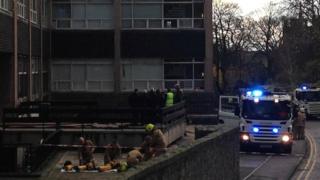 Firefighters have been tackling a blaze which broke out in a laboratory at the University of Aberdeen.
The alarm was raised after smoke was seen billowing from the windows of the Meston Building, which is used by science students, shortly before 09:40.
Six firefighters using breathing apparatus stopped the flames from spreading and confined smoke damage to the area close to the lab.
No-one was injured and work was under way to ventilate the premises.
Station manager Stuart Cruickshank, from the Scottish Fire and Rescue Service, said: "We had a hazardous materials officer on scene as a precaution and after liaising with a specialist lab technician he confirmed a cylinder in the area affected by fire contained liquid nitrogen and was non-hazardous.
"Other cylinders in the vicinity had been successfully isolated. Our crews are now using a positive pressure ventilation fan to clear the smoke from the building."
A university spokesperson said: "The minor fire that broke out in the Meston building at around 9.30am this morning has been dealt with and the building was re-opened by 11am.
"Lectures and tutorials in the building will take place as usual today. Chemistry students have been advised if their teaching arrangements for the day have been affected."
Do you have pictures - still or moving - of the scene of this incident? Send them to the BBC Scotland news website at newsonlinescotland@bbc.co.uk
Please ensure when filming or photographing an incident that you make your safety and the safety of others a priority.
You must have taken and be the copyright owner of any pictures submitted. If you submit an image, you do so in accordance with the BBC's Terms and Conditions