Approval for 3,000 new homes at Countesswells in Aberdeen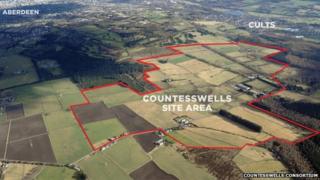 Planning permission has been granted for a 3,000-home development at Countesswells in Aberdeen.
Councillors in the city approved outline permission despite some strong local opposition.
Concerns have been raised about the impact on already heavy traffic in the area.
The plans will also see the creation of two new primaries schools, a secondary school, business units and a health centre.
The Countesswells Consortium project involves developers Heron Property, Stewart Milne Homes and Ian Suttie.
At the planning meeting, deputy council leader Marie Boulton failed in a bid to have the plans thrown out.
Ms Boulton said: "I think people weren't listening, they had made their minds up.
"This wasn't about removing the Countesswells site from the development plan, this was about prioritising it, ensuring the infrastructure was in place.
"We've already got gridlock around there."
But the planning convenor, Labour's Ramsey Milne, insisted that providing new housing was essential.
He said: "This is not something that has come out of the blue, it is a long-term planning proposal - it is really necessary that we provide 3,000 homes over the next 15 years for the development of the city."