Sinking of battleship Royal Oak 75 years ago remembered in Orkney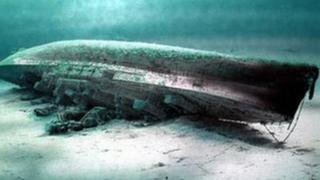 Events marking the sinking of a battleship at Scapa Flow in Orkney during World War Two are getting under way.
The Royal Oak was torpedoed by a German U-boat, in 1939.
Most of the 1,200 crew were asleep below deck, and more than 800 - including many boy sailors - died.
Royal Navy divers have successfully replaced the White Ensign on HMS Royal Oak
Events include next Tuesday - the day of the 75th anniversary - the laying of a wreath over the wreck site.
It is the first significant Royal Oak anniversary event not to be attended by any of the remaining survivors, of which there are believed to be just three.
However families of the the crew, and the community in Orkney, have vowed to carry on the act of remembrance for generations to come.
The Royal Oak wreck is an official maritime war grave.