Health board defends flying locum doctor from India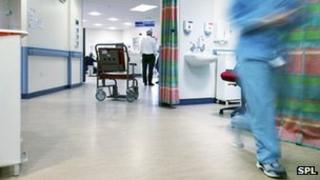 A Scottish health board has defended its use of a locum consultant who was flown from India to cover a weekend shift at a hospital A&E department.
NHS Grampian said a locum doctor from India was used by the health board to cover sick leave at short notice.
It said the consultant was normally on shift for a two-week period and covered his own travel costs. It confirmed his flight was paid for on this occasion.
North East MSP Richard Baker has called for an investigation into the issue.
'Limited resources'
He said: "The situation at Aberdeen Royal Infirmary needs to be investigated as a matter of urgency. How can this be a valid use of limited resources.
"Having to fly doctors half way round the world at huge cost cannot be sustainable and there needs to be a Scotland-wide investigation into where else this type of practise has happened before.
"The SNP government must take responsibility for the NHS recruitment crisis and do something. Their obsession with Scotland's constitution has left our NHS in crisis."
NHS Grampian said the total costs of employing the doctor were no more than would have been incurred to employ an internal locum.
The health board said it currently has 12 consultants in its A&E department and were working to recruit more to take the total to 16.
A spokeswoman said: "As we go through that process we use locum doctors to ensure a safe and efficient service for patients.
"Due to short-term sick leave, that process was followed over a recent weekend to ensure that there was full cover across the emergency department.
"Where locum cover involves travelling long distances we would arrange rotas that allow them to work, for example, two weeks on and two weeks off. No reimbursements for travel are made.
"We do use a locum consultant from India on that basis. On this particular occasion, to cover short notice sick leave, we asked this doctor to provide cover over the weekend.
"The doctor is one of our long-term locums and works regularly in the department in Aberdeen."
She added that the locum worked two 12-hour shifts on Saturday and Sunday, and remained on call in the hospital.
"Due to the shorter notice than normal to cover sick leave, the total travel costs were paid, on a one-off basis," she said.
"This amounted to just over £2,000. We recognise locum costs are high, and do try to minimise their use, but cover was essential this weekend because of short-notice sickness absence."
'Board's responsibility'
A spokeswoman for the Scottish government said: "Staffing levels are increasing across NHS Scotland and in NHS Grampian. Indeed, the number of consultants working in A&E has risen by over 40% since 2008.
"NHS Grampian have been successful in their recent attempt to recruit A&E consultants. They have also agreed to a further increase in recruitment, and that is currently ongoing.
"It is the board's responsibility to ensure the correct staffing levels are in place to deliver safe patient care. It is crucial that they do so in a sustainable way, ensuring that cover is in place for periods of high demand, or when staffing is reduced due to sickness.
"NHS Grampian need to ensure that the current arrangements in A&E fully meet these standards effectively and in the long-term."