Sir Ian Wood issues Aberdeen oil industry planning warning over 'wind down'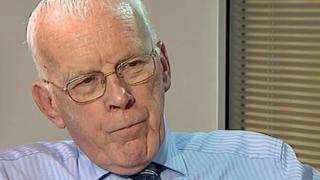 Businessman Sir Ian Wood has warned Aberdeen needs to plan now for the "difficult period" when the North Sea oil and gas industry "winds down".
Speaking at the Northern Business Star Awards on Thursday evening, he said the region needed "real vision".
Sir Ian predicted the "economic readjustment" would be over the next 30 to 35 years.
He said: "What we really need now is leadership and initiatives focused on planning Aberdeen's economy post oil."
Sir Ian said: "Local government, who did show some vision with their economic development plan when oil and gas first appeared, should be in the vanguard on this challenge, but our present administration show virtually no signs of even recognising the approaching economic challenge so clearly out there.
"Aberdeen's recently completed impressive sports centre and the plans for a very ambitious new exhibition centre are both helpful developments, but there's little else.
"Our already unattractive city centre continues to deteriorate and I'm bound to say it's almost unbelievable that we didn't go ahead with the Union Terrace Gardens proposals of some two years ago, which had majority support in a referendum.
"In my opinion, history will see this as a lost golden opportunity to transform the centre of our city.
"There are admirable ambitious plans to develop our harbour, we would benefit greatly from an extended runway at Aberdeen Airport to enable more international connections, and most importantly, in addition to a revitalised city centre, we need a range of new cultural and leisure developments to attract new businesses and new people to replace the North Sea activities over time."
'New initiative'
He added: "What is required is extraordinary determination, commitment and enterprise to set up a new initiative - let's call it Aberdeen 2050 - which must put together ambitious, proactive and phased development plans focused on attracting new industries and new activities to maintain our city in the medium term.
"You may say that 2050 is 35 years away, but the beginnings of the impact will be felt in 2030, and that's only 15 years away. So the time for action is now."
Aberdeen City Council is currently consulting on a master plan for the future shape of the city centre.
The suggestions will then be considered, and a plan will be presented at the end of the year.
Aberdeen City Council leader Jenny Laing said: "Sir Ian Wood has recognised the challenges that lie ahead for Aberdeen both in the private and public sectors after the demise of oil.
"Local government certainly plays a strong part in ensuring that Aberdeen is at the forefront of generating a vibrant economy however local government needs help not only from the private sector but from the Scottish and UK governments.
"The council rejected the City Gardens project because the economic case was not made."
She added: "We agree with Sir Ian that we need to take steps to regenerate the city centre and that is why the council has adopted a more strategic vision rather than the piece-meal approach adopted in years gone by.
"That is why we have commissioned a city centre master plan.
"Therefore we would encourage both the public and private sector in the north east to work in collaboration with the council in order to achieve our common goals."
Colin Crosby, chairman of development partnership Aberdeen City and Shire Economic Future (ACSEF), said he agreed that planning was vital to ensure the local economy remained robust as oil production became less certain.
"The partnership has an agreed set of priorities to grow the region's economy and to ensure urgency is injected into that process. ACSEF will continue to engage vigorously with all stakeholders moving forward," he said.
Sir Ian retired from his role as chairman of Aberdeen-based oil services firm Wood Group in 2012.
He had been chairman of the company since 1982 and served as its chief executive from 1967 to 2006.
Sir Ian recently headed a major review for the UK government looking at how oil recovery in the North Sea could be maximised.