Aberdeen city centre master plan consultation being held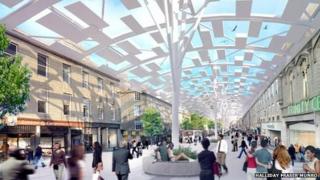 The first in a series of consultation events in Aberdeen on proposals for a city centre master plan is being held.
Members of the public are being encouraged to offer their ideas on how the city can be improved.
The suggestions will then be considered, and a plan will be presented at the end of the year.
Aberdeen City Council said Wednesday's event was taking place in the Academy Shopping Centre from 10:00 to 17:00.
On Thursday it will run from 10:00 until 20:00, then from 10:00 until 17:00 on Friday and Saturday.
In January, an architect revealed proposals including a roof over part of Union Street.
John Halliday said covering over part of the main thoroughfare, between Union Bridge and Market Street, would provide weatherproof links between shopping centres.