Teenager in custody after 'firearms incident' in Shetland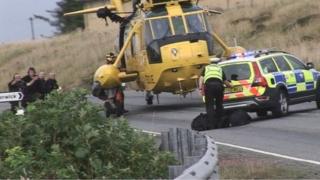 A teenager has been taken into custody after a suspected firearms incident in Shetland saw police urge the public in some areas to remain indoors.
A male, thought to be carrying gun, was seen leaving a rigid inflatable boat at East Voe in Scalloway.
Officers had issued an urgent appeal for the public to remain indoors around the Fogralea, Nederdale, Murrayston and South Road areas of Lerwick.
Police Scotland later said a 16-year-old man was in custody.
A firearms team had been flown to Shetland by helicopter from the mainland to assist armed officers based in Shetland.
The man was located in the Murrayston area of Lerwick and was arrested at about 17:15. No-one was injured.
It is understood no shots were fired.