'Fixated doctor withdrew drugs' at Aberdeen Royal Infirmary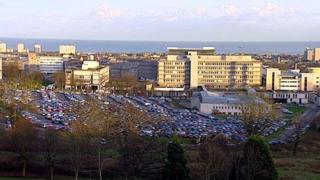 A doctor withdrew drugs from an intensive care patient at Aberdeen Royal Infirmary after incorrectly diagnosing him as brain dead, a tribunal has been told.
Dr Maryam Davoodi-Semiromi became fixated with the diagnosis, the Medical Practitioners Tribunal Service heard.
The doctor withdrew the three drugs for patient B in 2012, but they were reinstated by a consultant as the patient was breathing independently.
She was later sacked by NHS Grampian.
No harm came to the patient as a result of Dr Davoodi-Semiromi's actions, the fitness to practise panel heard.
'Deep concerns'
Chloe Hudson, for the General Medical Council, said the doctor had not worked in a clinical setting for three years before getting the post in Aberdeen.
She said: "Patient B was not brain dead and that is confirmed by a number of witnesses who dealt with this patient.
"The very reason this patient was not brain dead was because he was breathing independently and by definition a patient breathing independently cannot be brain dead.
"So there were deep concerns about what the doctor thought was the issue with Patient B."
Dr Davoodi-Semiromi is not present or represented at the Manchester hearing.
The hearing continues.