RAF Lossiemouth Typhoons are scrambled over Russian 'Bears'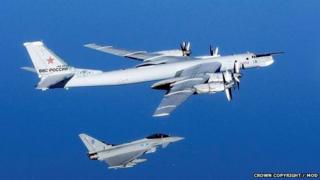 RAF Lossiemouth launched a Quick Reaction Alert with Typhoon jets for first time from the Moray base, it has been revealed.
They were scrambled to identify aircraft detected in international airspace.
The aircraft, identified as Russian military 'Bears', did not enter UK airspace.
RAF Lossiemouth did not reveal when the incident happened.
The 6 Squadron RAF Typhoon fighters were based in Leuchars and arrived at their new base in Moray in June.