Aberdeen Royal Infirmary staff 'exhausted', warns surgeon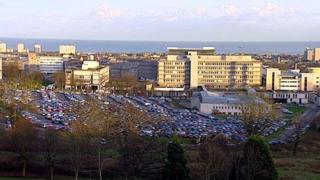 Doctors at Aberdeen Royal Infirmary are "exhausted" because of a staffing "crisis" in accident and emergency, a consultant has said.
Orthopaedic surgeon Simon Barker, of the British Medical Association, said there were "inevitably" safety concerns as a result of the staff shortage.
It comes after a group of A&E consultants warned board members they were being overworked.
NHS Grampian said the infirmary faced "staffing challenges".
'Immense pressure'
The health board was told in June of concerns doctors would not be able to provide the safe care of patients because of staffing. The warning was repeated at a meeting in Aberdeen earlier this month.
Mr Barker, who is deputy chairman of the BMA's Scottish Surgeons Committee, told BBC Radio Scotland there were still gaps in the rota.
He said doctors could not be created "overnight" to solve the problem, but urged the health board to come up with a "sustainable" solution "so that my colleagues aren't working on an exhausted basis and so that we are providing a safe and comprehensive care for the people of our region".
Staff are working "under immense pressure", he said.
Recruitment efforts
He added: "You wouldn't want to get on a plane and find that the pilot was exhausted so I think we need to make sure we have refreshed and cared-for and motivated people in these jobs, not people who are feeling downtrodden and unvalued."
NHS Grampian said the situation was not unique to Aberdeen.
It said: "There are complex challenges to bringing a sustainable resolution to emergency department staffing and these have been widely publicised.
"We remain committed to restoring and enhancing staffing in our emergency department and we assure the people of Grampian that we are committed to providing a high quality service."
The trust said a locum consultant and a "middle grade" staff member had been recruited, with efforts continuing to find more.