Aberdeen pensioner Richard Watt avoids jail over guns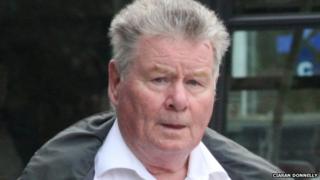 A 76-year-old Aberdeen man who left unwanted guns "gathering dust" in his basement has avoided a jail sentence.
Police found a corroded sawn-off shotgun, another shotgun in poor condition and an antique pistol at first offender Richard Watt's home.
Watt had previously been warned he could face a five-year jail sentence.
However, passing sentence at the High Court in Edinburgh, Lord Burns ordered him to carry out 140 hours of community service.
The judge said he had taken several factors into account, including Watt's age and that he was the sole carer for his wife.
The court previously heard the guns were found in the former gun enthusiast's home in Corthan Crescent in September last year.
A work colleague of Watt, who knew of his interest in guns, offered him two shotguns about 20 years ago.
He took them home to examine the weapons and found the bag also contained the component parts for a sawn-off shotgun.
Watt returned them to the colleague and said he did not want them - but the colleague did not want them back.
Watt then put them in his cellar and forgot about them.