Worker dies in fall on BP's Unity platform in North Sea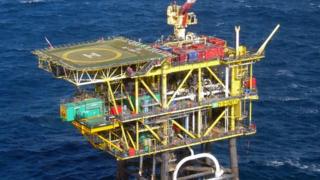 A man has died after a fall on BP's Unity platform in the North Sea.
The incident, involving an employee of Cape, happened at about 04:10, 97 miles off Aberdeen.
A BP spokesman said: "BP is deeply saddened to confirm that an offshore worker has died following an incident on the Unity platform. The next of kin have been informed."
Police Scotland and the Health and Safety Executive (HSE) have also been informed.
BP added: "BP is working with Police Scotland, the HSE, Cape and other relevant organisations to support those affected and ensure that the incident is fully investigated.
"The company extends its deepest sympathies to the deceased's family and employers and will provide them with every support it can.
"A dedicated phone line has been set up for any relative inquiries and can be contacted on 0808 1000 333."
A Cape spokesperson said: "It is with deep regret that Cape confirms the death of an employee following an incident this morning.
"The deceased was part of a Cape team carrying out routine maintenance onboard BP's Unity platform. Our thoughts go out to his family, to whom we will be offering every support.
"The deceased's co-workers are obviously shocked and saddened and we are working alongside BP to ensure they receive the support they need.
"We do not currently know the circumstances of the incident but will be working closely with BP, Police Scotland and the Health and Safety Executive on a full and thorough investigation."
BP said Unity is part of the Forties pipeline system.