Aberdeenshire Council chief executive Colin Mackenzie retiring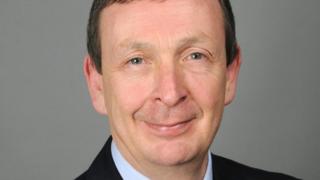 The chief executive of Aberdeenshire Council has announced his retirement.
Colin Mackenzie was appointed to the post in 2008, from his former role as director of housing and social work.
Mr Mackenzie will remain as chief executive until a replacement has been appointed, which could take several months.
He said: "I believe that now is the right time for someone else to lead and shape the council."
'Inspirational leadership'
He added: "I feel honoured to have served the communities of Aberdeenshire over many years and to have worked with so many dedicated and committed people."
Council leader Jim Gifford said: "Colin has demonstrated inspirational leadership to the workforce and has continued to build on Aberdeenshire Council's excellent reputation for delivering vital public services, and managing its finances robustly.
"He has built a strong team of senior officers who are committed to public service delivery and are confident and capable in their abilities to transform the council to meet future challenges."