Public hearing into former Aberdeen City Council HQ development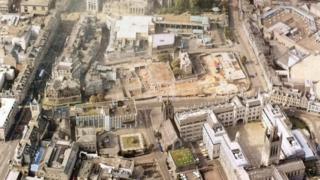 A public hearing has been held into controversial plans for the redevelopment of the site of the former Aberdeen city council headquarters.
Developers Muse plan to build a hotel and office complex on the city centre site following the demolition of St Nicholas house.
The £107m plan also includes building shops and restaurants.
The public hearing took place at Aberdeen Town House, where several submissions were made.
Aberdeen City Council's planning committee listened to representations from both the developers and members of the public.
Some have objected to the loss of an open space.
In their presentation, developers Muse insisted they have taken concerns on board and adjusted their plans.
In 2011, more than 1,000 council staff vacated the 14-storey St Nicholas House building, which was erected in 1968, for the newly-refurbished Marischal College building.