Police narrow down Italian Chapel plaques theft time in Orkney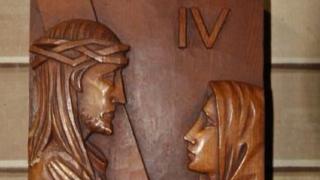 Police investigating the theft of plaques from Orkney's famous Italian Chapel have narrowed down the time the crime was committed.
Police said three plaques - marked with the Roman numerals IV, VI and X - were taken between 18:29 on 6 August and 11:00 on 7 August.
It follows a "great response from the public".
Officers had asked for photos taken inside the chapel about the time, to help narrow the timeframe.
The chapel was built by Italian prisoners of war during World War Two, and has become a tourist attraction.
Eleven wooden works depicting the "Stations of the Cross" were gifted by the chapel's creator Domenico Chiocchetti in 1964.