Helicopter lands on wrong North Sea oil platform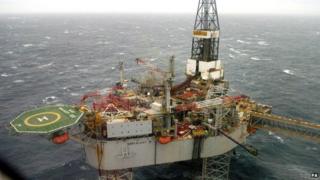 Two pilots have been suspended after an offshore helicopter landed on the wrong North Sea oil platform.
Bond Offshore Helicopters said it was investigating the incident on the Ensco 120 drilling rig in the Buzzard field on Friday.
The helicopter was supposed to land about 10 miles away on the Buzzard platform.
Bond confirmed one of its S-92 helicopters landed briefly on the deck of the rig.
It also confirmed that the rig was not on the aircraft's original flight plan.
One passenger was on board the helicopter at the time.
Nexen, which operates the Buzzard field, said it was working with Bond on the investigation.
The Buzzard field is located in the Central North Sea, about 100km (62 miles) north-east of Aberdeen.