Ultra marathon effort by son to thank Ian Bramald searchers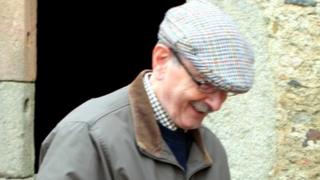 The son of man who vanished from Buckie six months ago is to run an ultra marathon to raise money to thank those who helped in the search.
Ian Bramald, 73, was last seen on Wednesday 26 February about two miles south of the town, in an area near Drybridge and Thornybank.
Now Jim Bramald will run more than 36 miles on Saturday.
He is raising money for the Search and Rescue Dogs Association Scotland (Sarda).
He will be running along the Speyside Way, between Ballindalloch and Buckie.
Mr Bramald said: "The disappearance of my dad has left a huge hole in the life of all the family.
"We were deeply touched and amazed at the massive efforts of all those involved in searching for him.
"To try and say thank you to everybody involved I'm raising some funds for the Search and Rescue Dogs Association, who were also involved in looking for my dad."
'Pretty tough'
He added: "Although I've done some running before, I've never run a marathon let alone an ultra-marathon before, so I think it's going to be pretty tough.
"I'll be spurred on by thinking of my dad and all the help and support the whole family has received throughout the last six months."
Det Insp Norman Stevenson, who led the enquiry to trace Mr Bramald, said: "We are still keen to trace Ian Bramald so we can piece together what happened and to bring closure to his family.
"The support we had from the community in Buckie was absolutely amazing and so I am sure they will get behind the Bramald family once again to cheer Jim on and support him in his marathon effort."
Mr Bramald was last seen wearing a short green waterproof jacket, blue corduroy trousers, a cap, a multi-coloured scarf and glasses.