Green energy project to power 20,000 homes and Macallan whisky distillery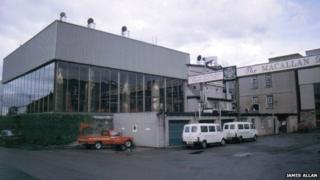 A £74m green energy project in Speyside will power more than 20,000 homes and provide heat for one of the world's best known whisky distilleries.
The Macallan distillery will use heat generated by the plant in the form of steam to cut carbon emissions.
Carbon savings from the plant at Craigellachie will be equivalent to taking 18,000 cars off the road.
The project by John Laing and UK Green Investment Bank (GIB) will also create 123 jobs during construction.
UK Business Secretary Vince Cable said: "With £3.8bn of funding, the UK Green Investment Bank has been set up to help businesses make the transition to a green economy right across the country.
"This investment in Speyside will not only help secure jobs, boost a vital industry and support the local supply chain but also generate renewable energy for homes in Scotland."
Chief Secretary to the Treasury, Danny Alexander, also welcomed the announcement.
He said: "The Speyside guarantee is fantastic news for Scotland's economic future.
Stronger economy
"It will power thousands of homes with clean energy, and also support the whisky industry, a cornerstone of our economy which brings in billions for Scotland and employs over 10,000 people."
Mr Alexander added: "Today, over £1bn of infrastructure projects have now been brought forward as a result of the UK guarantees scheme and £36bn worth of projects are pre-qualified.
"Our action is creating the right conditions for more investment in our infrastructure and helping to build a stronger economy."
Lord Smith of Kelvin, chairman of the UK Green Investment Bank, said the project "is a great example of the wide ranging benefits of renewable energy".
He said: "It generates power from a sustainable source, reducing the UK's greenhouse gas emissions.
"It generates heat for a local business, the iconic Macallan distillery, helping to save it money and reduce its carbon footprint.
"It supports local landowners who are providing much of the fuel. And it creates and supports local jobs.
"This will be a significant investment in Scotland's rural economy, creating modern, green infrastructure that will benefit local people as well as the environment."