New helicopter safety measure introduced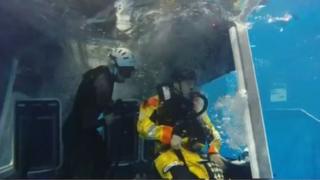 A new emergency breathing system is being introduced in a bid to give offshore workers a better chance of survival if their helicopter ditches.
The changes were brought in after a Super Puma helicopter crashed on approach to Sumburgh Airport in Shetland in August last year.
Three of the four people who were killed died through drowning.
A service of dedication is to be held at the airport next Saturday to mark the anniversary of the crash.
The new breathing system, which combines a life jacket with a small aqualung, is replacing the current hybrid re-breather, which is a life jacket with an air-filled rubber bag.
In the past three weeks, 26,000 workers have been trained in how to use it.
It is hoped the old breathing system can be withdrawn in September.
Wreath laid
On Saturday, a short service will be held at the airport memorial site attended by members of the emergency services and airport workers.
A wreath will be placed in the sea at the accident site at Dumb by the Airport Fire Service from their fast rescue boat.
The coastguard helicopter will also carry out a fly past as the wreath is laid.
The short service will take place at 16:45 at the memorial which is dedicated to those who have lost their lives in aircraft incidents in Shetland over the past three decades.