Peterhead prison officers use PAVA spray for first time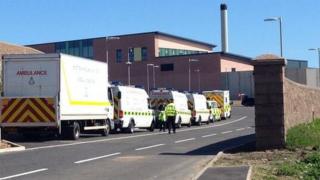 The prison service has confirmed a powerful spray was used on inmates for the first time during a disturbance at the new jail in Peterhead.
The incapacitant PAVA - which is significantly more potent than CS gas - has been available since 2007.
But May's incident at HMP Grampian, in which nine prisoners were sprayed, was the first time it had been used in a Scottish jail.
More than 40 inmates were transferred to other prisons after the disturbance.
It lasted for 14 hours and caused about £150,000 of damage.
The Scottish Prison Service confirmed the incident after Liberal Democrat MSP Alison McInnes raised the issue in parliament.
She said: "The Scottish Prison Service has had the power to use incapacitant spray since 2007 and this is far from the first disturbance in a prison since then.
"I am therefore anxious to understand why this tactic was used on this occasion."
Ms McInnes added: "I am also concerned that deploying such powerful sprays in a confined space could inadvertently affect people who were not being targeted, including police and prison staff.
"The Scottish Prison Service must ensure that local staff have the resources, knowledge and experience they need to be able to resolve difficult situations before they go from bad to worse."