Orkney killer Michael Ross 'tried to escape from prison van'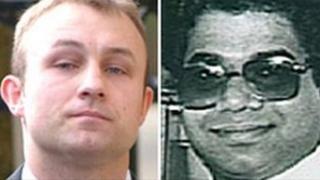 The man convicted of murdering a waiter in a Kirkwall restaurant 20 years ago is believed to have tried to escape while being taken to hospital.
Michael Ross had been travelling from Shotts prison to Monklands hospital in North Lanarkshire when the incident took place on 6 August.
It came after Ross failed in a bid to have his murder conviction re-examined.
He had previously tried to escape following his 2008 conviction for the murder of Shamsuddin Mahmood.
Mr Mahmood was shot in full view of a room full of diners, including families with children, by a masked gunman in Orkney in 1994.
Ross was found guilty of the murder after a trial at the High Court in Glasgow in 2008.
When the verdict was delivered, he fled from the dock before being caught by a court official and police.
Security van
The former Black Watch sniper had a cache of arms hidden in a hired car parked less than a mile away.
The Scottish Criminal Cases Review Commission announced last week that there was insufficient evidence to have Ross's murder conviction re-examined.
In the latest incident, the security van which had been carrying Ross had come to a halt when it is believed he tried to escape.
A spokesman for the security firm G4S, which had been transporting Ross, confirmed that an incident took place but said no members of the public or medical staff had been at risk.
Police, who were immediately called to the scene, are investigating.